Borneo – A Very Special & Magical Island
Borneo is located in South East Asia near the equator. Many people are confused by the island's division into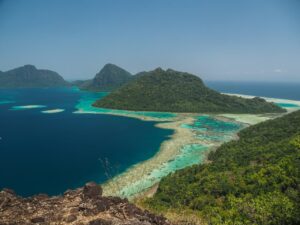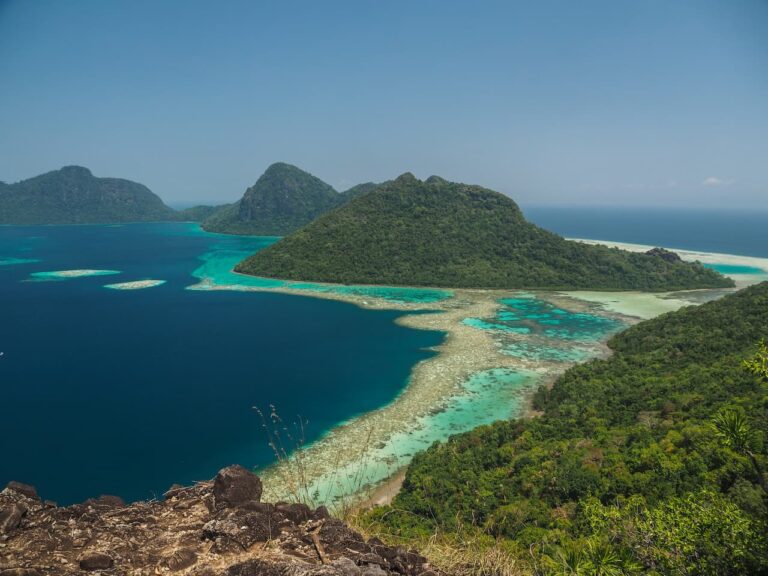 three areas: Malaysian Borneo, Indonesian Borneo, and the state of Brunei.
Borneo Island is one of the few places on the planet where the air is thick with the scent of adventure, and the lush-green rainforests shelter unique species of flora and fauna just waiting to be discovered. The magnificent surroundings of the world's third largest island create a virtual paradise for travelers who love adventure and nature.
If you are bored of the same old mountains and beaches. In that case, Borneo Island might be the next exciting adventure to discover rare wildlife, unique Borneo Island beaches, and a stunning floating mosque. So, scroll down this handy Borneo Island guide to see a different side of this Malaysian paradise.
Borneo Weather
Borneo is a very humid island, with humidity levels reaching around 80% for much of the year. The weather in Borneo is scorching all year, with temperatures averaging between 27 and 32 degrees Celsius. The island can receive up to 4000mm of rain per year.
Best Time to Visit Borneo
Borneo Island is located in a tropical region with hot and humid weather most of the year. Typically, the monsoon season hits the area from November to January, and the Sarawak region receives abundant rain. In comparison, the dry season lasts from May to October.
Rain showers relieve the humid weather, but they can discourage travelers looking to participate in adventurous activities. This weather also causes flight delays, so the dry season is ideal for experiencing adventure activities and exploring the swampy rainforests.
Borneo Exotic Wildlife
While the orangutan is undoubtedly the star of Borneo's wildlife scene, this tropical island is home to many other exciting creatures worth exploring. The diversity of wildlife in Borneo cannot be underestimated, from the adorable wide-eyed tarsier and the entertaining proboscis monkey to the endangered Sumatran rhino and Borneo pygmy elephant.
Borneo Dense Rainforests
The lush-green dense rainforests and Borneo National Park in Borneo Island shelter numerous endangered and rare species of flora and fauna. The Rainforest Discovery Centre, which opened to the public in 2006, provides a glimpse of the rainforest's diverse range of plants, animals, and insects.
In addition, the tour includes a visit to the beautifully manicured botanical gardens and the thrill of trekking through the jungle's rough trails. Above all, a network of canopy walks allows visitors to ascend from the dense forests and spot some rare bird species.
Borneo Underwater life
While landlubbers will seek comfort in Borneo's lush rainforests and exotic wildlife, the island's beauty does not end there. The warm blue waters surrounding Borneo are teeming with fascinating marine life, including sea turtles, schools of blue snappers, and colorful coral reefs.
Borneo Tusan Cliff Beach
The luminous water at Tusan Cliff Beach on Borneo will take your breath away, leaving you speechless. The waterbed transforms into a rainbow-colored blanket due to a reaction performed by bioluminescent organisms under certain weather conditions. You will be lucky enough to capture this breathtaking view.
Borneo Delicious Cuisine
Borneo's menu features a variety of delectable dishes, one of which is laksa. This spicy plate includes chicken, prawns, chili, coriander, coconut, rice noodles, and a squirt of lime. Kuching is Borneo's 'food capital,' where you can easily find laksa and other local delicacies at food halls, street vendors, or restaurants.
Borneo Hidden Waterfalls
Something is appealing about swimming in a hidden waterfall's calm, refreshing waters. Hiking through the wilderness of Borneo's national parks will undoubtedly lead you to a peaceful waterfall where you can swim and float in your private paradise.
Borneo Religious Architecture
While most people associate Borneo with its beaches or wildlife, the island also has stunning architecture. The island is dotted with beautiful churches and mosques with a Christian and Muslim majority. The most important mosque in Kuching is the Masjid Bahagian Mosque, also known as the Pink Mosque, which dominates the skyline with its Mughal-style domes.
Problems in Borneo
One of the most serious issues currently facing Borneo is daily deforestation. Logging companies that exploit the land for profit regularly cut down huge forest areas. In addition to deforestation, Borneo is plagued by forest fires regularly. Farmers use the burn and slash technique to clear land for palm oil plantations, and these fires frequently become out of control, causing smoke and harming local wildlife.