The Ultimate Airport Dubai
Dubai International Airport (DXB) is the primary international airport serving Dubai, United Arab Emirates. Opened in 1960 with one runway, one terminal building, and a handful of airlines, DXB has grown to become one of the world's busiest airports and a major international transit hub.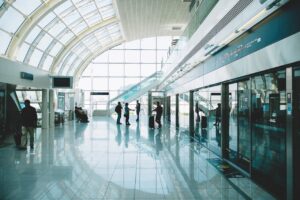 In this article, we'll take a comprehensive look at DXB, including its history, statistics and records, terminal information, airlines and destinations, amenities and services, transportation options, and tips for traveling through DXB. 
Whether you're a first-time or frequent visitor, this guide will provide everything you need to know to navigate Dubai International with ease.
History of DXB
The history of DXB mirrors the rapid development of Dubai itself. Here are some of the major milestones in the airport's growth over the past 60+ years:
1959

– Construction begins on the airport with a single runway and small terminal building.

1960

– DXB opens on September 30 with a runway, control tower, and small terminal.

1966

– A new terminal building opens, able to handle 300,000 passengers per year.

1970

– Runway lengthened to accommodate larger aircraft like Boeing 747s.

1980

– Cargo terminal added.

1985

– Terminal 1 opens, increasing capacity to 3.5 million passengers per year.

1996

– Terminal 2 opens, boosting capacity to 20 million passengers annually.

1998

– New control tower inaugurated, standing at 137m high.

1999

– Airport hits 10 million passenger milestone.

2001

– New runway added, increasing airport capacity.

2008

– Terminal 3 opens, taking total capacity to 75 million passengers per year.

2010

– Concourse 3 built, containing A380 gates.

2012 – Dubai Airshow site opens at DXB.
2013

– Concourse D built for budget carriers.

2016

– Airport hits 83 million passenger milestone, retaining title as world's #1 airport for international passengers.

2020 – Temporary closure due to COVID-19 pandemic.
2021

– New terminal to open, taking capacity to 118 million passengers annually.
Over its 60+ year history, DXB has grown exponentially to keep pace with Dubai's ambitions to become a global air hub. Today it connects Dubai to hundreds of worldwide destinations and facilitates trade and tourism for the region. With continued expansion plans, DXB is poised for further growth in the coming decades.
DXB By the Numbers
As one of the world's busiest airports, DXB handles huge volumes of passengers and cargo annually:
86.4 million

– Total passengers in 2019, making DXB the world's busiest airport for international passenger traffic.

2,500+

– Flights per day on average.

210

– Destinations served (as of 2019), covering 93 countries across 6 continents.

4,262,287

– Total metric tonnes of cargo handled in 2019.

118 million

– Expected annual capacity after new terminal opens in 2021.

160,000

– People employed at DXB, making it a major employment hub.

2

– Runways, both 4,000m long.

3

– Terminals (1, 2, 3) in operation, with Terminal 4 planned.

500+

– Parking spaces for aircraft.

97.8 million

– Total passengers in 2018, an all-time record.
After being impacted by COVID-19 travel restrictions in 2020, DXB is poised to rebound and continue setting records in the years ahead as a premier global transit hub.

Ultimate Airport Dubai Terminals
DXB has 3 active passenger terminals, with a fourth terminal slated for completion in 2023. Here's an overview of each terminal:
Terminal 1
Oldest terminal, opened in 1985.

Primarily handles smaller regional flights.

Home to Emirates budget brand FlyDubai.

Main amenities: duty free shopping, cafes, airline lounges.
Terminal 2
Opened in 1998.

Handles flights for over 50 airlines.

Main hub for Emirates Airline.

Features Concourses A, B, and C.

Main amenities: duty free shopping, restaurants, lounges, prayer rooms.
Terminal 3
Opened in 2008.

World's largest terminal when opened.

Exclusive hub for Emirates, capable of handling A380 aircraft.

Features Concourses A, B, and C.

Luxury amenities including spas, hotels, retail shops.
Terminal 4 (opening 2023)
Will be situated to the north of Terminal 1.

Estimated capacity of 18 million passengers per year.

Will be connected to Terminal 1 via an automated people mover.

Will help expand DXB's overall capacity to 118 million annual passengers.
Ultimate Airport Dubai Airlines and Destinations
Over 100 airlines operate out of DXB, connecting Dubai to most major global destinations. The top airlines include:
Emirates

– Dubai's flagship carrier and largest airline at DXB with non-stop flights spanning 6 continents.

FlyDubai

– Budget airline operating short-haul flights to the Middle East, Africa, and Asia.

Qatar Airways

– Major regional ME carrier with an extensive global network.

Etihad Airways

– Abu Dhabi-based airline with a sizable long-haul route map.

Lufthansa

– German airline with multiple daily flights between Dubai and Frankfurt & Munich.

British Airways

– UK carrier with frequent flights to London Heathrow.
Some destinations served directly from DXB include: London, Paris, New York, Hong Kong, Singapore, Sydney, Mumbai, Cairo, Bangkok, Manila, Istanbul, and Johannesburg. Basically, DXB connects Dubai to all corners of the globe.
Ultimate Airport Dubai Facilities and Services
DXB offers an extensive array of amenities and services suited for global air travelers. Highlights include:
Shopping – Extensive duty free shopping with over 350 retail outlets, including luxury brands. Terminals 2 and 3 feature sprawling shopping concourses.
Dining – Over 120 cafes, bars, and restaurants. Cuisine options include fast food chains, casual dining, fine dining, Arabic, Asian, and more.
Lounges – Premium airline lounges are available, including Emirates Business & First Class lounges. Pay-per-use lounges like Marhaba are also available.
Hotels – Transit hotels available airside at T3, including Holiday Inn Express and Premier Inn.
Spas & Salons – Luxury spa facilities inside T3, including Timeless Spa, Be Relaxed Spa, and more.
Children's Play Areas – Play zones for kids available airside at T1, T2, and T3.
Prayer Rooms – Dedicated prayer rooms and ablution facilities available in all terminals.
WiFi – Free WiFi (30min access) is available throughout terminals.
VIP Services – Marhaba meet & greet services, Emirates Business & First Class lounge access, fast-track immigration & security lanes.
Getting To and From DXB
DXB is conveniently located just 3 km from central Dubai, making getting to/from the airport easy: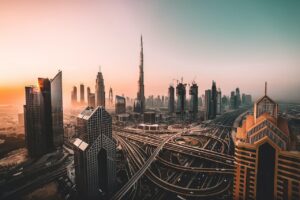 Metro – The Red Line of Dubai Metro connects the airport with downtown Dubai and other major areas. Trains run 24/7 with a journey time of 10-15 mins to/from downtown.
Bus – Public RTA buses serve DXB, including Route 4 to Deira and Bur Dubai, Route 11 to Al Ghubaiba station, and Route 7 to Ibn Battuta metro station.
Taxi – 24/7 metered taxi ranks are available outside every terminal. Journey time is 15-20 mins to downtown Dubai, with fares around 35-40 AED.
Private Car Service – Fixed rate limo service provided by DOTTRANSFER, Arabian Adventures, etc. Good for large groups.
Car Rental – Agencies like Hertz, Avis, Sixt, and Thrifty offer car rental counters in the arrivals areas.
Passenger Pickup – Drivers can pick up/drop off passengers curbside at the arrivals area of each terminal 24/7.
With metro, bus, taxi, and private car options, getting to and from DXB is simple no matter when your flight arrives/departs.
Tips for DXB Travelers
To ensure a smooth transit through DXB, keep these top tips in mind:
Allow plenty of time – minimum 2 hours – for connections to avoid rushing through the huge terminals.

Confirm both departure and arrival terminals to plan transfers between them (emirates.com/english/plan_book/dubai_terminal.aspx).

Carry some AED currency for small purchases, taxis, etc. Exchange desks and ATMs are available.

Download the DXB app for airport maps, flight status, retail offers, and more.

Avoid liquids >100ml in carry-on bags, as they'll be confiscated by security screening.

Refrain from packing any prohibited items like firearms or hazardous materials.

Consider lounge access – Emirates Business Class lounges provide an oasis to relax and dine before flights.

Sign up for the Marhaba Meet & Greet service if you need assistance navigating DXB.
The Future of DXB
DXB is set for continued growth as Dubai aims to cement its status as the #1 global air transit hub. Ongoing and future expansion plans include:
Opening Terminal 4 in 2023 to boost capacity to 118 million passengers annually.

Constructing a new Concourse 4 at Terminal 3, adding 11 A380 gates.

Lengthening existing runways to accommodate new-generation aircraft.

Expanding cargo handling facilities to increase capacity to 28 million tonnes per year.

Introducing new smart city technologies like facial recognition and indoor navigation.

Improving transport links such as extending Dubai Metro to T2 and expanding road networks.
As DXB evolves in the coming decades, travelers can expect increased global connectivity, cutting-edge amenities, and an ever-improving passenger experience.
Ultimate Airport Dubai Role In Growing Dubai's Tourism Industry
Tourism is a cornerstone of Dubai's economy, and DXB has played an integral role in enabling the Emirate's rise as a global tourist hotspot. Here's how the airport has facilitated Dubai's booming tourism growth:
Enabling Long-Haul Tourism
With nonstop flights connecting Dubai to all corners of the planet, DXB has been pivotal in attracting long-haul tourists from key inbound markets like Europe, Asia, and the Americas. The airport provides global air connectivity that allows tourists convenient access to Dubai.
Boosting Regional Tourism
DXB also serves as a hub for short-haul traffic from regional markets like South Asia, the Middle East, and East Africa. Flights from cities like Mumbai, Cairo, and Addis Ababa bring in thousands of regional tourists.
Serving Diverse Airlines
The airport's partnerships with over 100 airlines ensure the wide availability of flights at competitive rates, which supports high tourism volumes. Carriers like Emirates, Etihad, flydubai, and Air Arabia directly enable tourism.
Providing Tourist Facilities
DXB's huge duty-free shopping selection, hotels, dining/retail outlets, and amenities like VIP services make it well-equipped for leisure travelers. The airport experience sets the tone for tourists' Dubai visit.
Growing Origin/Destination Traffic
In 2019, around 53.4 million passengers were Origin/Destination traffic, meaning they either began or ended their trips in Dubai. This indicates the city's strength as a tourist destination in its own right.
Enabling 24-Hour Tourism
With round-the-clock operations, DXB supports Dubai's image as a city that never sleeps. Flights arrive and depart at all hours, facilitating 24/7 tourism.
Clearly, the capabilities and global scale of DXB have been a game-changer for unlocking Dubai's potential as a worldwide tourist magnet.
Ultimate Airport Dubai Economic Impact of DXB
Dubai International Airport is an economic powerhouse, both as an engine of local employment and a magnet for foreign trade and investment.
Employment
With around 160,000 people employed at the airport, DXB is a major generator of jobs and economic activity for the city. This employment covers ground staff, retail/food service jobs, pilots, maintenance crews, and back-office roles.
Aviation Sector Growth
DXB has enabled Dubai to become the MENA region's aviation hub and home base for Emirates Airlines. This sector employs tens of thousands more people beyond just the airport.
Tourism Impact
By facilitating tourism growth, DXB supports thousands more local jobs in the hotel, retail, attraction, transportation, and F&B industries. The airport's role in tourism has a huge trickle-down employment impact.
Trade Gateway Status
The burgeoning cargo handled at DXB cements Dubai as a regional trade gateway. Companies export/import goods from all over the world via the airport's capabilities.
Attracting Business and Investment
By providing global connectivity, DXB helps make Dubai an attractive niche for companies wanting regional HQs and investors seeking opportunities. This creates economic benefits.
GDP Contribution
DXB is estimated to contribute around 27% of Dubai's total GDP – an indication of its immense economic significance. The airport is a cornerstone of the city's growth and diversification.
In driving aviation, tourism, trade, employment, and overall economic diversity, DXB holds a vital role in Dubai's economic miracle.
Ultimate Airport Dubai Sustainability Initiatives at DXB
As one of the world's busiest hubs, DXB does have significant environmental impacts. However, in recent years, sustainability has become a priority through initiatives like:
LED Lighting Retrofits
Replacing old lighting with LEDs cuts electricity usage for illumination drastically. This move saves thousands of megawatt-hours annually.
Electric Vehicles and GSE
Electric ramp vehicles, buses, and ground support equipment are being introduced to reduce air and noise emissions. More charging stations support e-fleet growth.
Flight/Route Efficiency
Flight/route optimization efforts with airlines ensure more direct routings and reduced holding times, cutting fuel burn and emissions.
Solar Power
Onsite solar installations on terminal rooftops generate millions of kW-hours of clean energy annually at DXB. More panels are planned.
Waste Management
Comprehensive recycling and waste segregation facilities ensure less waste reaches landfills. Over 18,000 tons were recycled from DXB in 2019.
Water Conservation
Low-flow fixtures, leak management, and water recycling help curb millions of gallons of usage. Advanced sewage treatment cuts discharge volumes.
Green Building
Terminals incorporate green building elements like natural lighting, climate control, and local/sustainable materials to trim energy demands.
Driven by the Dubai Clean Energy Strategy 2050, DXB is working diligently to lower its carbon footprint and build a more sustainable operation.
Ultimate Airport Dubai Passenger Experience Enhancements
While DXB is already renowned for its services and amenities, there are always opportunities to further improve the end-to-end passenger experience. Some enhancements in the works include:
Contactless Technology
Touchless check-in, bag drops, immigration, and boarding leveraging biometrics will speed processing and reduce human contact amid COVID-19 concerns.
Enhanced Wayfinding
Upgraded digital signage and live mapping will help guide visitors seamlessly through DXB's massive terminals and concourses.
Luxury Retail
New luxury brand boutiques are opening in partnership with Dubai Duty-Free, elevating the retail experience for high-end travelers.
Advanced WiFi
Super-fast wifi will enable speeds above 1 Gbps via fiber backbones and next-gen WiFi 6 networking, keeping passengers connected.
More Play Areas
Additional kids' play zones will provide much-needed entertainment for long-layover families traveling with children.
Pet Hotel
A new 24/7 hotel at Terminal 2 will care for passenger pets during their owner's travels through DXB.
Airport Apps
Apps like DXB & Emirates offer real-time travel information and services on the go to assist passengers.
As passenger expectations and technologies evolve, DXB will continue enhancing facilities and services to match ever-rising service standards.
Ultimate Airport Dubai Key Statistics About DXB Operations
To fully grasp the sheer scale of DXB, it helps to digest some key statistics that quantify the airport's daily operations and global status:
Over 1 million passengers pass through DXB every 4 days on average

Approximately 6,800 flights take off or land each week

Around 140 different airlines operate from the airport

Destiny-bound bags handled annually could fill over 156 Boeing 747s

Total cargo handled in 2019 could fill over 4,560 Olympic swimming pools

Average aircraft movements per day in 2019 reached 914

DXB serves the most international destinations (224) of any airport worldwide

At 15 hours, DXB-LAX is the longest scheduled flight from the airport

The busiest route is DXB-LHR (Dubai to London Heathrow)
These impressive metrics showcase the massive scale and global importance of this aviation hub that never sleeps.
Ultimate Airport Dubai Conclusion
From humble beginnings with one runway in 1960, DXB has emerged as a leading global air transit hub and a key driver of Dubai's economy and tourism. With a strategic location, expanding route network, and world-class facilities tailored to global jet-setters, DXB connects Dubai to practically anywhere on Earth.
As DXB continues setting passenger traffic records and expanding capacity through new terminals and infrastructure, it's cementing its status as the crossroads of global air travel where East meets West. For today's global citizen, DXB offers unparalleled connectivity, making Dubai their gateway to the world.