What is the world's best street food? Eating street food is a terrific way to not only eat well on a backpacker's budget but also allows you to interact with locals and learn more about the dishes and customs that go with them. We love street food because it's cheap and authentic.
A history lesson frequently accompanies the best street cuisine in the world. There are specific cuisines that reveal a lot about immigrant communities. Others speak about long-forgotten customs. Some people scream about new trends started by younger generations.
There are a wide variety of street cuisines available in every country, region, and city. Let us discuss them.
Aloo Chaat (South Asia)
Aloo chaat, a delicacy made with boiled and fried potatoes mixed with spices and chutney, is famous throughout South Asia, but especially in Pakistan and northern India and areas of India's West Bengal state and Bangladesh's Sylhet district. Aloo chaat is a snack, a side dish, or a light dinner that varies by area in terms of spices and chutneys.
Arepa (Colombia and Venezuela)
Arepas are a popular dish in Colombia and Venezuela. These soft, thick patties are made with ground maize flour, maize kernels, or maize meal mixed with salt, water, and occasionally butter, milk, eggs, or oil.
Arepas can be fried, baked, grilled, boiled, or steamed and are frequently stuffed or topped with eggs, meat, tomatoes, cheese, or salad, or eaten plain as a side dish. Arepas are commonly eaten with avocado, cheese, or cuajada, a type of milk curd, and can also be used to serve as bread for a sandwich.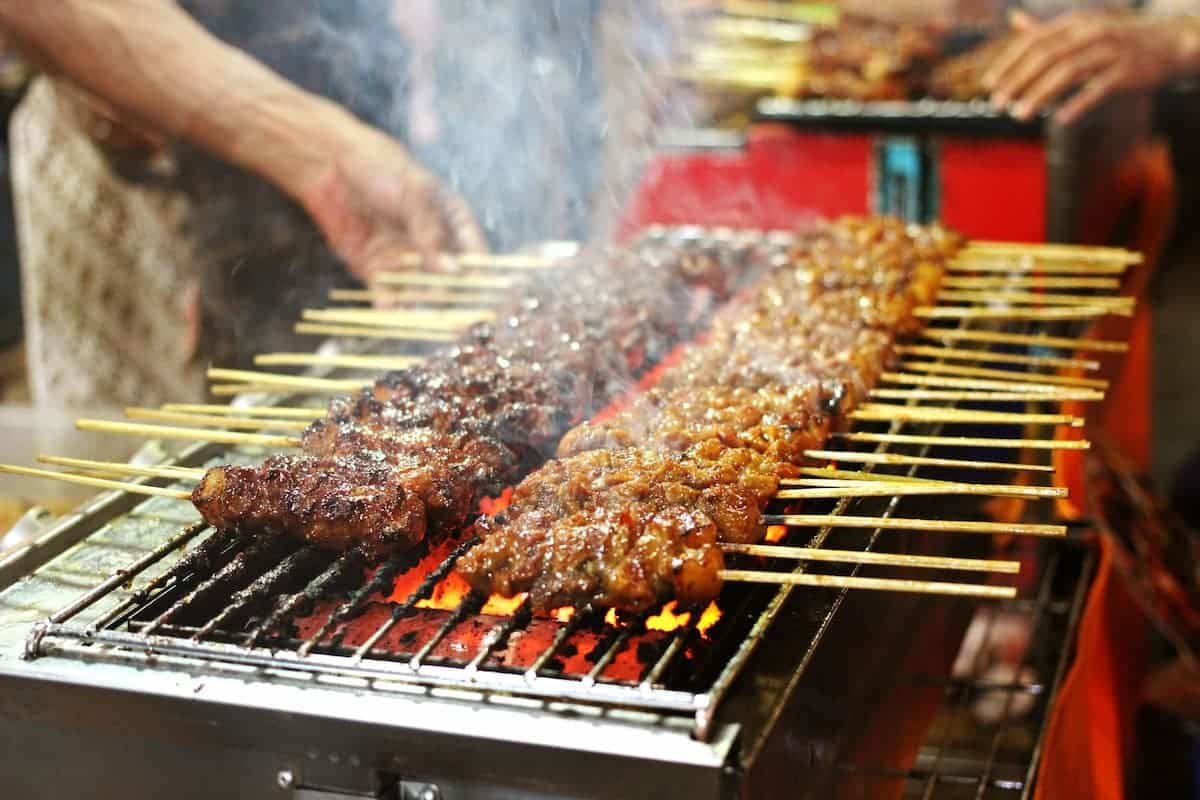 Bunny Chow (South Africa)
Bunny chow is a South African street cuisine that originated with the Indian population in Durban and is sometimes called simply a "bunny" by locals. A bread loaf is hollowed out and filled with lamb, mutton, chicken, or bean curries. The dish is frequently served with a side salad of grated carrots and onion, traditionally eaten by hand.
Gelato (Italy)
While the Italian word for ice cream is Gelato, some people may not realize that Italian Gelato is not the same as ice cream. Gelato is substantially lower in fat than standard American ice cream and is made with milk, cream, and sugar before adding nuts, fruit, or other flavourings.
According to Italian law, it must include 3.5 per cent butterfat (as opposed to the 10 per cent butterfat dictated for ice cream by American law). On the other hand, Gelato has more flavour and less air whipped into it than ice cream, giving it a richness that has made it popular in Italy and around the world.
Hot Dog (America)
The hot dog is a typical American street snack that may be found on the menus of many restaurants, convenience stores, and stadiums. Hot dog stands and food trucks can also be seen in major cities like Chicago, Detroit, and New York, recognized for their hot dog culture.
A grilled or cooked sausage is served on a steaming hot dog bun and topped with any toppings the eater desires, such as ketchup, mustard, relish, onions, coleslaw, cheese, and chilli. Regional differences in cooking and condiments exist!
Chapli Kebab (Pakistan)
The Chapli kebab is a flat and spherical kebab that originated in Peshawar, Pakistan. It is commonly made of ground beef or mutton. Raw minced meat is blended with wheat flour, eggs, onions, tomatoes, ginger, coriander, green chillies, and spices like garam masala and chilli powder before being shaped into a circular form and cooked or deep-fried.
Chapli kebabs are famous in Pakistan, but they're also popular in India and eastern Afghanistan, where they're served with naan, rice, or on a bun or sandwich bread with chutney, salad, or yoghurt.
Mango Sticky Rice (Thailand)
Mango sticky rice, also known as khaoniao mamuang in Thai, is a traditional Thai dessert popular in Southeast Asian nations, including Cambodia, Laos, and Vietnam. Sticky steamed rice is mixed with coconut milk that has been seasoned with salt and sugar, then set to absorb the milk.
The rice is then drizzled with extra coconut milk and served with mango slices on top or the side. The meal is trendy in Thailand during the summer months of April and May when mangoes are in season.
Tacos (Mexico)
A corn or wheat tortilla is folded or rolled around a filling containing beef, chicken, cheese, pork, seafood, and vegetables, then topped with avocado, chilli pepper, cilantro, guacamole, lettuce, onions, salsa, and other toppings. Tacos are also famous in Canada and the United States, with a vast range of delicious options available in every state.
Tornado Potatoes (South Korea)
In Korea, tornado potatoes, also known as hoeori gamja, are a famous Korean delicacy that looks just as good as it sounds. A complete potato is spiralled and deep-fried on a skewer before being coated with condiments like cheddar, honey, or onion. It's a simple snack, but you can make one more interesting by having sausages spliced in between the potato spirals.
Khachapuri (Georgia)
Khachapuri, Georgia's national cuisine, is a cheese-filled bread that comes in a variety of flavours. The middle of leavened bread, formed in various ways, is filled with cheese (typically sulguni, a Georgian variation), and the crust is peeled off and dipped into it. Fillings made of eggs are also popular. Khachapuri is also popular in many other post-Soviet countries, including Russia and Armenia.